Ranga Yogeshwar congratulates BJB on making it into the TOP 100 again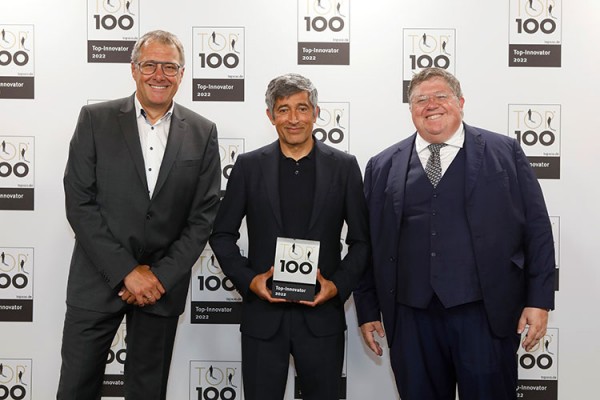 Überlingen - The award ceremony at the Summit took place on Friday evening, June 24, in Frankfurt am Main for all medium-sized companies that were awarded the TOP 100 seal at the beginning of the year. The science journalist accompanied the innovation competition, which was held for the 29th time, as a mentor. In the scientific selection process, BJB was particularly convincing in the size category C (more than 200 employees) in the category "External Orientation/Open Innovation". This is the second time that the company has been among the top innovators.
The TOP 100 company portrait published on the occasion of the award states:
LED luminaires are being installed in many places today. It becomes particularly challenging when the environment places special demands on the light sources. For example, an oven: LED luminaires normally do not tolerate heat and steam very well. But BJB specializes in such lighting for large kitchen appliances. In this regard, the Corona year 2021 has brought this medium-sized company an increase in sales of more than 20 percent. "Customers all over the world appreciate our products and services, so we were able to further expand our market leadership," says Managing Director Philipp Henrici, citing one reason for the growth. Another reason is the good development work done in previous years. "This is now paying off." Close cooperation with its customers is also important to BJB. "Since the luminaires have to be planned into the new equipment at an early stage, we are usually on board from the very beginning," explains technical manager Olaf Baumeister. Innovation teams regularly scrutinize all processes, with the aim of continuously optimizing the offering.
TOP 100: the competition
Since 1993, compamedia has been awarding the TOP 100 seal of approval to medium-sized companies for special innovative strength and above-average innovation success. Since 2002, scientific management has been in the hands of Prof. Dr. Nikolaus Franke. Franke is the founder and director of the Institute for Entrepreneurship and Innovation at the Vienna University of Economics and Business. The mentor of TOP 100 is the science journalist Ranga Yogeshwar. Project partners are the Fraunhofer Society for the Promotion of Applied Research and the BVMW. As media partners, manager magazin and impulse accompany the company comparison. More information under www.top100.com.
Picture: KD Busch / compamedia